INDEPENDENT BACK AND FOOTREST OPERATION
Now you can lean back and relax without having to engage the ottoman thanks to the Comfort Recliner's independent back and footrest.
Gordon By American Leather
Pillow Back: Two-piece cushioned comfort
The luxury of grandstand seating with the look of modern equestrian saddles. The Gordon Comfort Recliner™ mixes feminine and masculine design; the result is first-class comfort.
Pillow back and seat cushions sit between two soft padded arms that taper from front to back. This oversized recliner encapsulates you for ultimate relaxation. A thick top-stitching highlights Gordon's silhouette, adding a touch of sophistication and style.
Features
Patented reclining mechanism, with footrest and back that operate independently and with a fully upholstered footrest.
Available in two sizes.
Unique gas-assisted footrest allows for smooth infinite adjustments by gently pulling lever with the manual version recliner
Extra long footrest eliminates  gaps and provides complete leg support, no matter what your height
Articulating headrest allows you to find the ideal pillow angle for watching tv and reading
The power option has a control panel which includes a USP charging port with LED backlight
Stainless-steel extension under the footrest hides all mechanical linkages and accentuates the full-length footrest
10-year warranty on mechanism.
Power motor has a five-year warranty.
Battery option allows you to float your chair anywhere in your room without seeing power cord
Custom luxury to your home in about ​10-11 weeks. Expertly crafted in Dallas, Texas.
V5 (narrow) Dimensions
Felix V- 5: 32w x 39d x 40h (inside seat: 20w)
Felix V- 5: Fully Reclined: 71d
V7 (wide) Dimensions
Felix V- 7: 34w x 37d x 42h (inside seat: 22w)
Felix V- 7: Fully Reclined: 72d
Price: $4,149 (Fabric) | $4,949 (Leather) Starting Grade Covers
Power option: +$300
Battery Pack: +100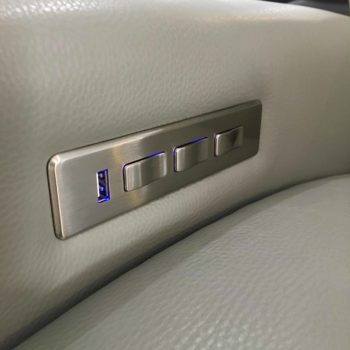 Showroom Location
280 El Camino Real
San Carlos, CA 94070
bedroomandmoresc@gmail.com
650-226-3688
Hours of Operation
Monday through Thursday: 10am - 7pm
Friday & Saturday: 10am - 6pm
Sunday: ​11am - 6pm
WANT TO SHOP, BUT CAN'T MAKE IT IN?
We are available by phone and can answer all your questions and help you through the entire shopping process.
© 2020 Bedroom & More All rights reserved.